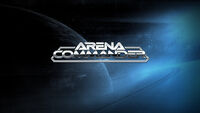 Arena mode: The next generation of Wing Commander's TrainSim allows pilots to test out their combat skills against friends or strangers in a simulation. Gain valuable combat experience without the downside of losing your ship in the game universe! Place bets on competitions across the galaxy.
Arena Commander, also known as the dogfighting module is one of the Star Citizen modules. It was released on 2014-06-04. It will be released as single player versus AI at first, with multiplayer support planned to be released a few weeks after[1]. It was announced on Wingman's Hangar that the dogfighting module was to be shown to the public in a playable state for the first time at PAX East which runs in April, before later shipping to backers when any identified issues had been fixed.
It is the implementation of the Arena Mode promised in the $16 million USD stretch goal.
Releases
First iteration
Players are required to own a ship in order to fly it in Arena Commander mode. The first iteration lets players fly their Hornet, Aurora and 300i ships.
The release of the first iteration was originally planned for December 2013, but delayed for "a couple more months" while the developers work on the Star Citizen netcode[2]. Its release was rescheduled for 2014-05-29. After suffering a slight delay[3], it was ultimately released on 2014-06-04[4].
Arena Commander II: Revenge of the Vanduul
The second release of the dogfighting module will see the addition of multi-crew ships such as the Constellation, the Freelancer and more as well as several single-seat ship variants. Co-operative AI pilots will be available as well as in-game communications with other players.
Arena Commander III: Heart of the Empire
The third release of the dogfighting module will bring new environments to choose from, including a space station and a mining colony. FPS boarding mechanics will be implemented as well as a new Capture the Idris mode.
Game modes
Various game modes will be available in the Dogfighting Module.
Free Flight
Battle Royale (Free for all combat)
Squadron Battle (Team battles)
Capture the Core (Capture the Flag mode)
Vanduul Swarm ("Horde" mode)
Capture the Idris (Only available as of Arena Commander III)
Maps
Videos
Gallery
The Hornet HUD in an Arena Commander map
External links
References