Caterpillar
Manufacturer
Drake Interplanetary
Role
{{{role}}}
Measurement
Length
66.5 m
Beam
22 m
Height
14 m
Null-cargo mass
68000 Kg
Structural
Cargo capacity
20 t
Maximum crew
5 person
Upgrade space
12 slots
Maximum power plant size
5
Factory power plant
Coming soon
Max engine (primary thruster)
2x TR5
Factory engine
Coming soon
Maneuvering thrusters
8x TR2
Factory maneuvering thrusters
Coming Soon
Shield
Coming soon
Hardpoints
Class-1
Class-2
4 available
Class-3
2 available
Class-4
2 available
Class-5
Class-6
Class-7
Class-8
Additional equipment
1x L-Sys Mark III Tractor
Product page
[N/A Caterpillar]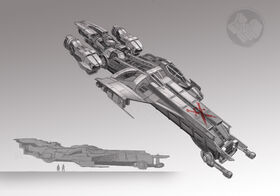 Drake maintains that the Caterpillar, a sprawling, modular spacecraft which appears at least somewhat like its namesake, is for legitimate commerce and extended search and rescue missions... but at the end of the day, the Caterpillar is truly the evil twin of the Freelancer.
Designed for supporting pirate operations, the Caterpillar features a large cargo hold for carrying loot, heavier armor than other freighters in its class and room for five crew able to serve in boarding operations. Despite its heavier armor, the Caterpillar isn't a bulldog... a succesful operation will require a fighter escort.
The Caterpillar is a mercantile ship with a large cargo capacity manufactured by Drake Interplanetary. Drake advertises the ship as a mercantile and Search and Rescue vehicle, but its primary untold use is for piracy.
Original specs
In the original development document, the Caterpillar had the following specs:
 Upgrade Capacity: 8
 Cargo Capacity: 20 tonnes
 Engine-
 Modifiers: 2
 Max. Class: Anti-Matter
 Thrusters: 2x TR5, 8 x TR2
 
 Hardpoints-
 4 x Class 2: Equipped 2 x Behring M2A Laser Cannon
 2 x Class 3: Non Equipped
 2 x Class 4: Equipped 2x Behring M5A Laser Cannon (turret), 1x L-Sys Mark III Tractor Beam

Gallery
External links