Freelancer
Manufacturer
[[{{{manufacturer}}}]]
Role
{{{role}}}
Measurement
Length
{{{length}}}
Beam
{{{beam}}}
Height
{{{height}}}
Null-cargo mass
55,000 KG
Structural
Cargo capacity
20 tonnes
Maximum crew
2
Upgrade space
10
Maximum power plant size
{{{maxplantsize}}}
Factory power plant
{{{factoryplant}}}
Max engine (primary thruster)
{{{maxengine}}}
Factory engine
{{{factoryengine}}}
Maneuvering thrusters
{{{thrusters}}}
Factory maneuvering thrusters
{{{factorythrusters}}}
Shield
{{{shield}}}
Hardpoints
Class-1
{{{hp1}}}
Class-2
4
Class-3
2
Class-4
1
Class-5
{{{hp5}}}
Class-6
{{{hp6}}}
Class-7
{{{hp7}}}
Class-8
{{{hp8}}}
Additional equipment
{{{equipment}}}
Product page
{{{store}}}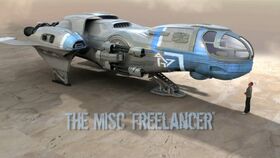 MISC is known for producing efficient, modular, middle-of-the-road ships, primarily transports of different sizes. Freelancers are used as long haul merchant ships by major corporations, but they are just as frequently repurposed as dedicated exploration vessels by independent captains who want to operate on the fringes of the galaxy. Don't let some of the alien technology in the cockpit surprise you: the Freelancer's design owes several of its internal systems to a lend-lease deal with the Xi'An.
Freelancer appearance poll
On November 16, 2012, a poll was opened on the official site presenting the two concepts for this ship's appearance.
Stock armament
On class 2 hardpoints

2

Behring M3A Laser Cannon
On class 3 hardpoints

2

Talon Stalker Image Recognition missiles
On class 4 hardpoints

1

Behring M5A Laser Cannon (turret)
Similar ships from other canon
Galaxy
Gea Transit
Humpback
See also